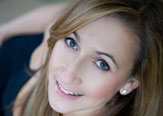 Louise Perry
Louise Trained at Laine Theatre Arts, she began her professional career in musical theatre in show's such as 'Fame, 'Return To the Forbidden Planet' and 'Patsy Cline' before moving into presenting. She is a warm and versatile presenter with a wealth of experience. Over the last few years Louise has presented programmes on everything from sports & news to Lifestyle and travel.
Within the corporate market she is a popular choice for companies who want an intelligent, outgoing and friendly face representing their company, either on a video, at a product launch or an exhibition.
Louise loves shopping and has been fortunate enough to work within shopping telly. Launching JML's infomercial channel followed by their live channel eeZee TV. She has worked right across Europe hosting a variety of infomercials on all sorts of products from pillows to slimming pants!
She is probably best known as the face of London's travel, having worked for both GMTV and London Tonight. She now keeps the nation on the move on BBC Radio 5 live and manages to combine that with her work as a professional singer and voice over artist.
With her entertainment background, Louise is passionate about the theatre, cinema and music, but her biggest love (apart from her husband, two children, one cat and a rabbit) is Liverpool football club, the first word she ever spoke was Goal!